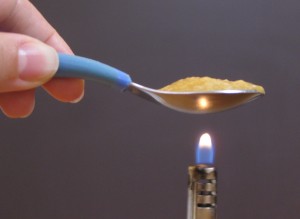 Hey Baybeee. Heeeeeyyy. Do you want some? Do you want to try it? Mmmmmmm. It's good. You'll like it. Just a little bit? Yeahhhh. Just a little bit. Open uuup. Opeennn uuuuup. Mmmmmm. Good boy. That's a good boy. Do you want a little more? Good baby.
I am cooing and coaxing my infant to eat. I am watching his every gesture and adjusting my serenade as we go, in the mother's chant that runs low to high and back again, the velveteen stream that jackets each word as it tumbles out. My heart is full of love and I am smiling into the song when it strikes me: I sound exactly like a drug dealer. Or, I sound exactly like the Hollywood version of what I imagine a dealer to be. My addictions are all in the sanctioned spaces of consumption, achievement and relationships; it's harder to suss them out from the tinkle and jangle of the every day.
Are our patterns just unskillful reenactments of this scene? Are the bad habits we step into again and again, the childish groping at the most immediate and imaginable version of fulfillment? How do we start out so beautiful and end up so fucking crazy? Are we committing no offence greater than seeking again, the innocent moments when every sense was sated? When food was placed in our mouths, when our ears hummed with the sliding vibration from our mother's throat, when all we saw were big eyes reflecting back our own love and wonder? Perhaps our lives are just a messy, gross motor gesture to go back to the source, to hold for ourselves the spoon that feeds us.