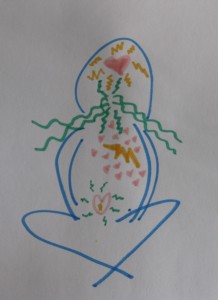 A funny thing happened on the way to love – I got distracted by desire.
The dominant event in February was presenting at TFT14, about the relationship between technology and culture. This was a lot of fun, a great experience, and the first piece of meaty, external, professional work I've engaged in in over a year. I found myself almost manic in how I approached it (thinking about it constantly, up until one or two almost every night of the ten days I had to prepare), and really exhausted afterwards.
The most interesting part was watching myself not only completely loose interest in the domestic life I've immersed myself in (the laundry can wait, let's get takeout tonight), but also becoming irritable and angry when it interfered with the exciting and pleasurable work going on in between my ears. I think part of what makes deliberate thinking so enjoyable is its similarity to the subtle abstraction layer that constantly runs in the background of our experience – the one we use to interpret the world, and in which we actually live most of our lives. Deliberate thinking is an amplified version of interpretation, one in which we have a feeling of control and purpose that replaces our normal vagueness, and makes abstraction feel magical, powerful and awesome.
I had a very hard time loosing myself in play with my kids; I found it exceptionally boring. I had a much lower tolerance for their bickering, for their childishness. I found it very difficult to switch with any ease back and forth between the quiet, intense, turning and touching focus I use to develop a concept and push my thinking in a new direction, and the loud, rollicking, roll-with-it easiness that makes being with little kids pleasant. For the first time, I began to question, are the roles of professional, intellectual work, and a domestic, parenting life, incompatible? I don't want to believe this is true, but it was certainly true for me this month.
One of the key points I made in my talk, was that information is compressed experience, and this is certainly evident in the gulf between what kids know and what their parents know. We tout education as a means to transcend our more brutal instincts, and there is some truth to this. But a less commonly acknowledged truth is that with our knowledge we often adopt an intolerance for those who don't know the same things we do. Often this is unconscious, but the consequences are still the same as overt judgement: misunderstanding, separateness, distrust. What I discovered about myself is that much of what irritates me about my kids boils down to them not understanding the world as I do, or more specifically, not complying with my worldview. We're fighting over perspective, which, framed that way, seems insane, especially when one of the things I most wish to impart on my children is curiosity and acceptance of other perspectives.
Living with my children is like living with people from a different culture. They don't understand the language very well, they're illiterate, and seem to have very few customs related to emotional regulation. They don't like a lot of the food here and frequently refuse to even try it; this behavior is accompanied by bizarre eating habits – like eating with their hands, running around with their food instead of sitting down to eat it, or preferring to eat while sitting on top of another human, usually me. They commonly talk over each other and other people, it seems that their tribe does not speak in a tennis-volley style like we do, but all at once and very loud in an effort to be heard over the other voices. Oddly, this is also a common point of frustration for them, because it is very hard to understand anything, which is exacerbated by their inexperience with the language. They are frequently loving and affectionate, but are prone to aggressive language and violent outbursts, often yelling and hitting each other or us, sometimes resulting in cuts and bruises. They are much more interested in our culture than we are in theirs, and imitate our behaviors regularly, sometimes even calling it to our attention so that they might be praised for it. And yet, with seemingly equal frequency they actively resist the things we ask them to do so that they might become fully acculturated. They are especially resistant to matters of personal hygiene, or having to do anything quickly. Also, they love sugar. They are obsessed with sugar. It must hold a place of sacred importance in their native land, for nothing else could explain the energy they put into thinking about, and acquiring, treats.
I am deeply in love with humans who are foreign to me. And when the gulf is most extreme, I yell at them, so that I might frighten all of our hearts back into their respective dominions. It is just too painful, too overwhelming, to confront what a long journey it is to meet in the middle; the miles on my side alone, appear eternal.
Another thread throughout my presentation was the idea that it's very difficult to innovate within the context of our native culture because it's transparent to us – we can't see the ways in which it influences us because it's simply become our worldview. What gets claimed, and acclaimed, as innovation is usually closer to tepid iteration. I offer that one way to disrupt this is by intentionally broadening the values and perspectives that we include in the design process of what we create. I have a very different perspective on American business and technology cultures having stepped away from them for a year and spent my time learning how to succeed survive in different culture with different values and different rhythms. I think this is valuable and I'm grateful for it, even though it's also been painful and scary to give up an identity I'd invested so much in. And yet the reverse seems not to be true. I can see the value I bring as an outsider, surely, but it's much harder for me to be comfortable with and open to the value of someone who is an outsider to my own experience – even though I want to. There is a weird asymmetry here. I can appreciate a business and technology perspective because I have shared it. And although I once was a child, I remember almost nothing from my young childhood. I don't have any recollection of the experience I once shared with my own young children, and as a result, I am very quick to discount them. I don't even mean to, in fact I mean not to, and I still do it, a lot. And if that model holds – if it is our natural inclination to automatically reject what we haven't experienced, how on earth do we cultivate genuine diversity? Diversity that doesn't just look different, but sounds different.
Part of what is weird, I mean truly weird, about the human experience is that we can't imagine with any fidelity anything we haven't experienced. The best we can do is make up a version of what might happen (or has happened) based on the reconstructed, abstract memory of something that happened to us. This means that we are wrong (in some degree or another) about everything except what is happening right now (which we also get wrong a lot), and yet we go through our lives thinking that we are mostly right, most of the time. We assume the exact opposite of what actually occurs. I can't understand how it is even possible to do that, yet we do. All. Of. The. Time. It is amazing that anything works at all. And I think part of the reason that it does work, is that shared experience gives us a good enough imitation of someone else's subjectivity to have it pass as our own. For it to be believable that we are in communion, and in so being, see our precious selves in another.
February's practice had a lot of spontaneously conditional activities, which made it hard to remember how I planned to handle them, and also made clear what a large gap there is between my intention and my actual behavior. It's hard to predict when I will get angry, talk to someone, or become tense, and nearly as hard to stay aware and responsive to those situations in accordance with my specified practice activities. The Heart Card helped with this, just having it in my pocket raised my awareness, but a lot got away from me. But despite failing a lot more than I succeeded, or in truth, probably because of that, I managed to learn a couple of things.
It's not just me! My kids, being young and from another culture, have not yet mastered THE RULES OF HOW TO SPEAK TO EACH OTHER RESPECTFULLY. I knew this about them, but I didn't realize how much it reinforced my own carelessness, until I made an effort to counter it (and I wonder why all my coaching isn't having the impact I hope for). What also surprised me was how much other adults do not follow THE RULES OF HOW TO SPEAK TO EACH OTHER RESPECTFULLY. I went into this month's practice assuming this happened because I blew the transaction with my own inattention, and of course this is partly true. But once I started deliberately offering my eye contact and full attention to the people I engaged with, I was amazed at how few people met me with an equal level of attention.
Many people in casual transactions, like handing me a coffee, or saying have a nice day, would not even look at me at all. Sometimes they would, but with very little emotional presence, as if they had good training in the rules of engagement, but were attentionally absent. It struck me that we all do a lot of hiding in plain sight. I can't tell which way we've chameleoned, in or out, but we certainly seem afraid to be seen. The most pleasurable interactions were the ones in which my attention hooked the other person – they would start of non-committal, but then deepen their engagement based on my continued attention. By the end of the interaction they would be beaming, seeming equal parts delighted and mystified that a stranger wanted to see them. I loved it when this happened. It felt good, really good, to mutually recognize each other's humanity in this way. We spend a lot of time imagining that love is big – panoramic sunsets, and epic orchestras with soaring string sections – but some of the most satisfying moments of love I experienced were when I did nothing more than witness the presence and simple actions of someone else.
The other important lesson I got was the first time I ran out of good advice. I was really mad at Colin (for what I can't remember), and followed the directions on The Heart Card, to calm down and think of what I would tell someone else to do. Much to my amazement, I found that I had absolutely no good ideas at all. Really none, and I had not prepared for this particular predicament. I decided the best thing I could do, under the circumstances, was to just speak gently and honestly about why I was upset, which I did. What I said is also lost to memory but Colin's reaction isn't. He was gracious and loving. He said okay mom, and gave me a hug. And for him, a sensitive and cerebral kid, this was an off-pattern response. It is amazing how many of those eternal miles you can travel in the company of someone else.
So what did I learn about love? Nothing that I didn't already know and have to relearn at every turn. Love is so simple as to not be believable. Love is coiled and slumbering all around us, and we are mostly too shy, too self-conscious, too hurt, too fearful to reach in and out at the same time, and gently wake it up.