For Keri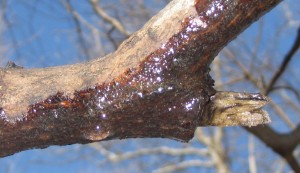 One hundred yards back, looking towards the clearing,
I see the drops gleaming. Shining all the way down.
It is dry.
My coat rubs electricity out of the air
and sends it snapping out my fingertips.
I am a good and unhappy conduit.
Closer, I hear the tap of liquid on leaves, slow and irregular.
I break a swelling drop across my finger.
I taste wood, dry air, and faint, sweet maple.
I taste my childhood.
Dark branches leak the surging sweetness. Climbing and awake,
in a race of a different pace,
spilling now in the slow tip of craftsmanship.
It is in the jointed places, that life runs out.
In the broken places, life pools. The bark shines,
the wound glistens, calling attention to the bounty that springs from there.