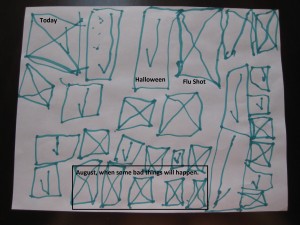 Colin, in an attempt to earn a toy gun, has started drawing out behavior charts. Days with check marks are good days, and days with X's are bad days. The most charming (disturbing) part about these, is that he fills them all out in advance.
He drew this one this morning. Today started out as a good day, but then got X-ed over to a bad day, after he had a meltdown that Jack was being taken out for a special birthday breakfast. Halloween, is prominently featured as a good day, and his upcoming flu shot, a bad day. I asked him about the row of bad days at the end of the chart and he said, That's August, when some bad stuff will happen.
So, apparently, at five we have in place the mental process that can anticipate good and bad things happening, and start planning our reactions accordingly. What's amazing (disturbing) to me, is how much I still do this throughout the course of my own day. I like this, I don't like that. I agree with this, I don't agree with that. I'm looking forward to this, but not to that. This is good, this is bad. We do so much of this checking and X-ing that we pre-program our experience before it even occurs. Thank goodness for logic, so we can retroactively clean up and refactor the mess that we created. Time travel ain't got nothing on our imaginations.
During the rolling tantrum that ran all morning, Brendan and I alternated between offering compassion for Colin's hurt feelings (hugs and validation), and trying to sooth him with rational explanations (you had a special birthday day last week, now it is Jack's turn). By drop-off time for school, we were simply relieved to not have to endure his unhappiness anymore, or our failure to alleviate it. He understood all the reasoning, but it seemed to offer no relief at all, and that is distinctly different than my adult experience. It's pleasant and easy to share in someone else's happiness (or at least be neutral), especially if I've recently had a similar experience myself. I don't worry about getting my flu shot, because the discomfort is a small price to pay for the security of vaccination. In fact, I worry about not getting it. Sometimes, logic is the only salve I know how to apply. Not so, for Colin.
Watching my kids grow up is like witnessing the super-slow-motion implosion of the human psyche, or as it's commonly referred to in western psychology, normal cognitive development. With each additional skill of abstraction, they create another surface onto which they can layer experience. But then they need a set of filters for making sense of the abstracted reality, and integrating it back into their model of the world. The more elaborate the model becomes, the deeper their perception of separate self. Fast forward another 30 years, and perhaps they'll be hitting the break point, where the accumulated model reaches its limits.
Is there a better way? Is it possible to re-infuse these stages of development with some of the beautiful simplicity of the direct experience they're shedding? Can that be done, without also limiting them? Maybe the truths of growth are always hard won, and painfully released, and it is simply our job as parents to offer safe and loving shelter.