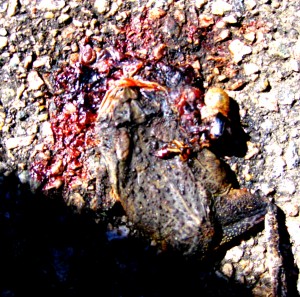 Yesterday, we were drawing with chalk in the driveway and the kids got very excited to show me something.
Mummy, Mummy! Jack takes me by the hand and walks me towards the basketball hoop.
Oh no, it's a frog. It's mushed. I ran it over with the car.
Like the bat, Colin says.
Yes, like the bat. I also just backed over a wiffle ball bat, mushing it into a very suitable cricket bat. Apparently the concentration and clarity developed by my meditation practice have not permeated my skill of backing the car out of the garage.
Look! Look! says Jack.
I know, the yellow jackets and the ants are eating it. Two yellow jackets and a collection of ants are feasting on the carcass. I had no idea that yellow jackets were omnivores. Oh. I'm so sad I killed this poor frog. I did not mean to do that. Do you want to say a little prayer with me?
I kneel down. Jack kneels down. Colin kneels down.
Little frog, I'm so sorry I ran you over you and killed you.
I'm sorry we killed you frog, Colin repeats.
Sorry frog, says Jack.
I feel really sad. I love frogs. I think about our frog from the garden. I hope this is not the same frog. It's too mushed and dried out to tell what kind it was. Its entrails are still moist, but its back feet are leathery and curling up from the blacktop.
But look, do you see what the bugs are doing? They're eating its body.
Yeah! Jack is full of earnest enthusiasm.
Even though the frog is dead, its body will still help these bugs. They will eat it and have energy to be healthy and strong, and they will take some of the food back to their nests, and feed the other bugs. Isn't that cool?
Colin looks up at me.
It's like saying I love you.
Yes. Yes honey, that's exactly right. It's just like saying I love you.